Okay, okay, I only got rid of 90% of my craft supplies but guys …. 90% is A LOT! My last craft room tour was two years ago. I am so excited to finally unveil my redesigned craft room with much less stuff in it. I started remodeling this space in February 2017 and I finally finished it. I'm going to show you every single nook and cranny in this craft space and explain my whole philosophy behind what I kept and what I got rid of. Are you ready? Let's goooooooooo!!!
Keep reading to learn more about what furniture and organizers I used plus see WHY I did the things I did. Watch this video on YouTube to see everything from start to finish!! SUBSCRIBE to my channel to get notified when I post more craft room organizing ideas like this!
This post contains affiliate links.
Get all the craft room tours right here!
Before you go off into YouTube land, I want to let you know there is a super awesome goodie in this blog post. Scroll the to the bottom or keep reading to find out what it is!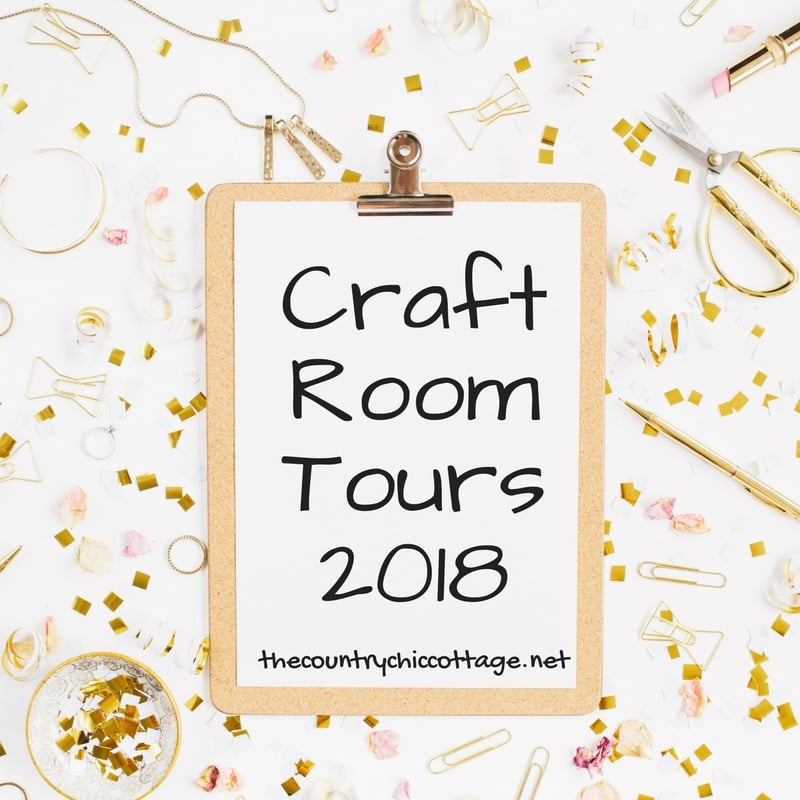 I am also super excited to be sharing my craft room as part of a week long tour with 24+ other crafters. You're in for a LOT of great organizing ideas and tips and you can find them all listed in one place on The Country Chic Cottage: 2018 Craft Room Blog Hop
Now, let's get started!
Why I got Rid of 90% of my craft supplies
I'm starting with this because, besides the crazy colors in my craft room, this is the most shocking thing about my craft room tour.
I mean, WHO DOES THAT?
Why I got rid of so much of my craft stash
I literally got rid of 90% of my stuff. There are so many reasons why I got rid of my craft stash.
Having a lot of stuff was a burden
Now 90% might sound like a lot and it definitely was a lot of stuff and it was a lot of money. But I feel a lot better not having all of the extra stuff hanging over my head.
I felt guilty about my stuff … and felt like I couldn't buy new goodies
I always felt like I had to look in my stash for supplies rather than go shopping when I wanted to work on a new project.
There are so many cool new things coming out in the craft world all the time. But I felt like I couldn't really go buy them because I had so much stuff I needed to be using. I should be using. I felt bad about not using …
I spent all of my time organizing … and not crafting!
One day my husband made a comment to me about how much time I spent organizing my supplies.
When we would be watching TV, I would wheel over one of my rolling carts or a crop bag. Then I would spend an hour or so organizing. I used to actually make crafts while watching TV but over the years I started making fewer crafts and spending more time organizing.
Crafts weren't making me happy anymore
I realized that all of this stuff wasn't making me as happy anymore as it did when I first bought it.
It was taking time away from creating because I had to spend all my time organizing and cleaning up.
Also, because there was so much stuff it was really hard to actually make any projects because there was so much stuff to go through. I'm super duper organized but when you have a huge volume of stuff it just makes everything take longer, no matter how organized you are.
Even more reasons why a huge craft stash was bad … for me
I went ahead and made a short list of the reasons why I got rid of most of my stash:
I just had too much stuff – it was overwhelming any time I wanted to create
I was always organizing
I had trouble finding things I wanted – not because I was disorganized but because of the sheer volume of stuff I had
I realized all of those supplies were not making me happy
The huge stash made me feel like I couldn't buy or enjoy new things
I had loads of guilt because I wanted to buy new things rather than use my old stash of craft supplies
I had guilt over the money I spent to build that huge stash of craft supplies, so much guilt that I started hating my supplies and thought about throwing everything away
Do you ever feel yourself identifying with any of these same feelings about your stuff?
You're not alone!
I started a Facebook group for anyone who wants to get organized called "The Organized Crafter. I would absolutely love it if you joined the group.
Click here to JOIN The Organized Crafter Group now
How I decided what to keep, what to toss, and what to donate
After I made the decision to get rid of my stuff, I had to figure out how to actually get rid of it.
Real life versus TV organizing shows
You know those TV shows where they go through a hoarders house and they make a "keep" pile and a "toss" pile and a "donate" pile? It actually doesn't work that easily in real life.
In real life you don't have the time or space or manpower or willpower or emotional fortitude to go through an entire craft rooms worth of stuff in one afternoon.
How do you organize your craft room in real life?
This process of deciding what to keep, what to get rid of, and what to give away literally took me three and a half years. I worked at it gradually month after month while still creating projects in my space.
After going through this process of figuring out what to keep and what to get rid of over and over and over, a few things became really clear to me. In fact, the process of how to determine what to keep and what to get rid of became super clear.
How to decide what to keep and what to toss
Here's some of the processes that I used for determining whether or not something should stay in my space:
I got super real about what I actually use and what I was keeping because someone else thought it was cool or someone else gave me the item. Was I keeping it because of guilt?
I asked myself when was the last time I used this?
I asked myself how do I plan to use this?
I got in touch with my woo-woo side — how did I feel when I thought about or held the item? If the item felt like a burden or made me anything but excited, it had to GO!
Craft organizing is emotional
I know this process is not easy. It's actually challenging not just physically but emotionally as well. Yes, we have feelings wrapped up in our craft supplies too!
If only there was a guide to help organize craft supplies!
I created a super awesome guide to help you with figuring out what to keep and what to get rid of in your space. It's easiest if you start with one type of supply; this guide focuses on tools.
Tools are usually what we spend the most money on and they usually determine where we're going to store things in our space.
Click here to download the Craft Room Tools Organizing guide for free and get started on organizing and purging your space.
What did I do with the stuff I got rid of?
It sounds super easy to just sell your stuff off when you're getting rid of things.
Don't sell your craft supplies in a yard sale
But anyone who's had a yard sale knows that it's actually really hard to communicate the value of things to other people. That item might have cost $20 when you bought it but now it's not even worth 50 cents to a year sale buyer. It kinda stings!
Plus it can just become plain overwhelming to always be having yard sales or listing items on eBay to sell.
A better way to get rid of your craft stash:
Here are just a few of the different places where I got rid of my stash:
Give your craft supplies to Teachers
I posted on Facebook asking any local teachers if they wanted to come by my house and pick up a load of supplies for their students. I literally filled several teachers cars to the roof with supplies. I recently filled two trash bags with stamps, paint, and stencils for a middle school art teacher.
Donate unwanted craft supplies to Schools
Schools can always use art supplies and crafts supplies, not just for their art blocks, but also for science and other educational activities.
Find a teacher at your local elementary school who will accept the supplies from you and distribute them to the other teachers. I got super lucky with my son's 3rd grade teacher and even now years later she still takes craft supplies from me and give them out to the other teachers.
Get a tax break – donate craft supplies to charity
Check with your local charitable organizations to see what types of craft supplies they can use or sell and which they don't.
Sell your unwanted craft supplies … as a last resort
You can sell your supplies on etsy, Facebook Groups, and even via apps, like the new D-Stash app on iOs!
Check out this post with 17 Places to Sell Your Craft Stash for more ideas.
2018 Craft Room Tour
Now that I've talked about how I got rid of all of this stuff, it's time to do the actual craft room tour!  I'm super excited to show you the full reveal of my newly remodeled craft space. Though I do have to be completely honest, I have changed a few things since I took these photos just a few weeks ago. You'll have to wait until next year's tour to see those changes though! LOL To see a 360º view of this space, CLICK HERE!