These tips complement the tips I posted earlier this year. I am in the midst of cleaning up my scrap room from the aftermath of having so many classes and events at one time. I was reminded of these rules I try to follow to help keep my room in working order.
1. Take It Out Of the Package.
I take everything out of the manufacturer packaging and put it into baggies or Dot Boxes when it comes to embellies. I have a kind of file of the baggies in each of my "color" drawers—they are all lined up and I can flip through to see what I want.
I take ribbon off the cards or rolls it comes on and put it on rings that hang in my room, by color. I also hang the bulk ribbon I buy at the LSS by the yard in the same way.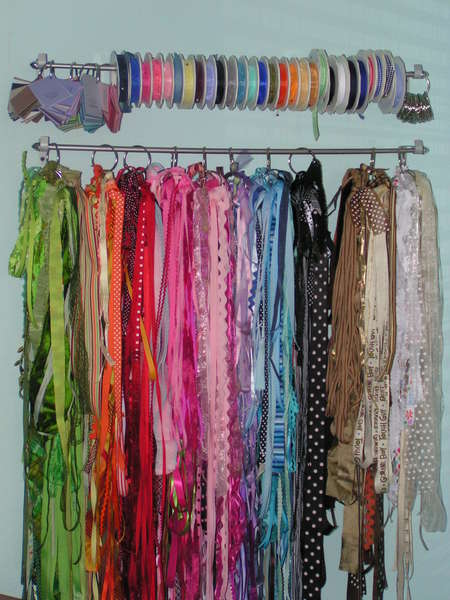 If paper comes in a pack, I split it up and put it with the appropriate color for each piece of paper. Getting rid of all of the irregular and mismatched packaging helps me keep an orderly scrap room! And you can recycle the packages into mini candy holders like this:
This box originally held LARGE Prima Flowers. I covered it with Christmas patterned paper, covered the Prima label with the "Sweet" tag, and then added some shred inside with a couple of decorated Hershey bars. The jars held Prima Flowers. I put a paper strip around the middle to cover the label and tied a ribbon around. Then I filled it with candy and put a little punched 0ut circle on the top of the lid: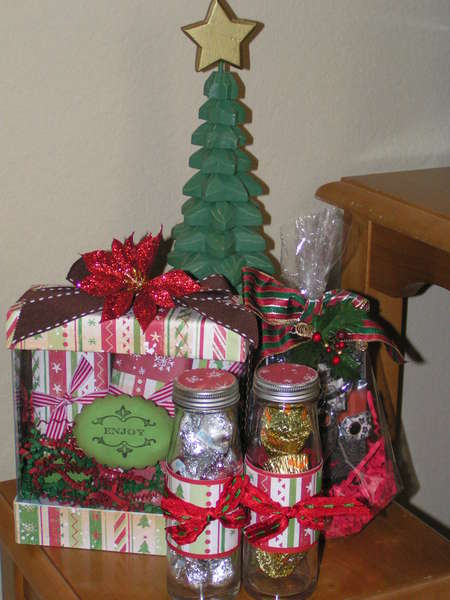 I am actually teaching this "Green Gifts" technique in the "Nifty Gifties" Class coming up on November 22, 2008 at Scrapbook Boulevard in Victorville. CA.
2. Purge. Go through your stash every 6 months to a year and assess it. Set a limit for yourself. If the paper is more than 2 years old, get rid of it. If you were really into florals when you first got into scrapping but find that now you use more bold patterns since you have an only son, then maybe those floral print papers should go. The same with stickers and anything else you'll never use, especially trendy items.
3. Avoid Overbuying Trendy Items. Just like Rachel Zoe says, spend the most money on the staples in your wardrobe and get just a couple of trendy accessories, the same goes for scrapbooking supplies. If I had a nickel for every stupid decorated bottle cap I bought…uggh! Trends are great—I love trying new stuff and seeing what the next big things are—don't get me wrong. But limit your buying when it comes to trendy items. Only buy what you think you can use in the next 3-6 months. That is how often the manufacturers (if not more often) tend to release new products. So make you sure you use up that trendy item before you buy into the next trend. Also, if it sits in your stash too long, you'll be less likely to use it because the appeal just isn't there anymore.
4. Don't Buy New "Hangers". This is something professional organizers tell their clients when they can't organize their clothing and closets. Once you've organized everything and it fits in your space and is accessible, don't go buy more organizing stuff to put new items into. If you buy a new shirt, get rid of an old shirt so you can use that same hanger for the new shirt and don't need more space. Same for scrapping. If you have a box of red buttons, use some of them up before you buy more. Don't go buying a bigger box to put the buttons into because now you've just bought another bag of 500 buttons.
If you don't think you'll ever use that item, then get rid of it. Plenty of scrapbook stores have semi-annual customer garage sales you can sell your "overstocks" at. Plus you'll get store credit to buy new goodies!
I personally like to use Dot Boxes from Cottage Mills to organize my embellishments. The little boxes inside can move and be removed so that if I need to reconfigure my goodies so they fit, I can do so easily.
5. Clean Your Space Between Projects. Putting items away every time after you use them helps keep your space clean and organized. If you leave it all to pile up or even worse, dump it in a bin (I am so guilty of this) then you are making more of a mess. Now you won't be able to find that stuff when you look for it because it isn't where it belongs, at some point in time you have to sit down and take the time to sort through the bin of junk, and you have a bin cluttering up your workspace. Just take 3-5 minutes after each layout to clean up so your space stays organized.
What's your favorite tip for keeping your space clean while you craft?