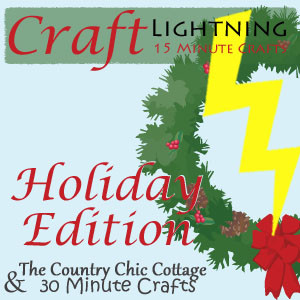 I'm so excited to be sharing a project on the Holiday Edition of Craft Lightning!! Earlier this week I shared how to make a book page wreath and kicked it up a notch by spray painting it with Krylon ColorMaster spray paint and Krylon Glitter Blast to give it an ombre glittered look. Today I am going to share a similar technique that you can use on paper mache letters to create DIY ombre gold letters for your mantle, wall, or bookshelf.
Easy DIY Ombre Gold Letters
I chose the word "JOY" but you can choose any word for your faith, for a different holiday, or even choose a name, like your family name or your favorite pet. Here's how to create these ombre gold letters:
Isn't that ridiculously easy? You could totally do this with two colors of spray paint or with a different color of spray paint + Glitter Blast, which comes in a BUNCH of colors.
Once the Glitter Blast has dried, add a coat of Krylon Glitter Blast sealer to seal the glitter and prevent it from flaking off.
Supplies:
Paper Mache, Wood, Or Metal Letters
Krylon ColorMaster Metallic Gold Spray Paint
Krylong Glitter Blast in Golden Glow
Krylon Glitter Blast Clear Sealer
Wouldn't this look seriously cute tied to a gift or covering a candy-themed Christmas tree?
Keep up with our crafty adventures by subscribing to the Hydrangea Hippo Crafty Newsletter.