This shop has been compensated by Collective Bias, Inc. and its advertiser. All opinions are mine alone. #MerrySpritzmas #CollectiveBias
Holiday guests will be here before you know it and there's one thing that we all know happens around the holidays but nobody wants to talk about. We've all experienced that worry when you're at a holiday party or at the relatives' house and all of a sudden you've got to go. This year you can be prepared whether you're the host or the guest. You gotta get Poo~Pourri! I've created a really fun way to let your guests know what to do when they want to leave the porcelain sleigh leaving smelling better than they found it: a DIY "jingle smells" cross stitch sign for the throne room! Keep reading to see how to make this sign, grab the free naughty cross stitch patterns, and learn more about how Poo~Pourri can make this holiday season the best smelling ever.
How Poo~Pourri works:
My family has been using Poo~Pourri for years as a way to make using the restroom more pleasant whether we're traveling or at home. We buy it because it's funny, but we use it because it works. And did you know that Poo~Pourri is all natural!? It's no wonder that Poo~Pourri has received over 15,000 five-star reviews with 40 million bottles sold. Here's how it works, in two easy steps:
Spritz into the toilet bowl before-you-go and Poo~Pourri's pure blend of NATURAL ESSENTIAL OILS creates a film on the surface of the water. It also smells really nice!
This protective barrier traps odor under the surface of the water in the bowl, before the odor ever begins!
All you'll smell is a refreshing bouquet of NATURAL ESSENTIAL OILS. Flush yeah!
Here are a few ways Poo~Pourri can help make this holiday season the best holiday ever:
Be the host with the most pleasant smelling bathroom
When you're the host of this year's holiday party, you can make your guests feel more comfortable using Poo~Pourri when dealing with the stinky aftermath of holiday party foods. With fun holiday scents that will make your guests laugh, you can take the edge off this uncomfortable problem by stocking the throne room with Poo~Pourri. No one wants to be the guest who left the bathroom smelly at a party!
Add a spritz of holiday magic by leaving the porcelain sleigh smelling better than you found it. My favorite scent is Poo~Pourri Merry Spritzmas®, a blend of peppermint, vanilla and citrus natural essential oils. Something about peppermint always makes me think of the holidays. Smelling is believing! Add this fun naughty cross stitch sign to the bathroom to help guests know to use Poo~Pourri before they go.
Wanna make your bathroom feel like a spa retreat? Check out this post: DIY Spa Retreat Bathroom
Travel with Poo~Pourri
Poo~Pourri is absolutely essential any time we travel; we always keep an extra bottle of Poo~Pourri Lavender Vanilla, a comforting blend of lavender, vanilla and citrus natural essential oils, in our travel toiletries bag. I recently went on a scrapbooking retreat with 45 women so you can imagine how heavily that restroom was used.  I used my handy-dandy bottle of Poo~Pourri to keep everything smelling pleasant. And if you're crammed into one of those tiny staterooms on a cruise, well, Poo~Pourri is essential for family harmony!
Bring Poo~Pourri along to the party
When we're talking about the holidays, pleasant experiences are one of the biggest concerns! You don't want to be that person who makes the poo in the bathroom and leaves a trail of stink. You can pack Poo~Pourri in your bag wherever you go. Leave an extra bottle in the bathroom for other guests to use.
Give the gift of Poo~Pourri
We've been stuffing stockings with Poo~Pourri for years … every year they have another awesome holiday scent assortment just for gift giving. This year, Poo~Pourri's Holiday Gift Sets and Ornaments are perfect for stockings, hanging on the tree, and sprucing up your own powder room for guests.
This Poo~Pourri gift set at Bed Bath and Beyond includes: 2 oz Holiday scents and a Hangable Ornament Box. Give them a gift they'll remember for the smell they'd rather forget! Be sure to look out for special coupons on one item at Bed Bath and Beyond's website before heading out to shop or shopping online.
Don't you wanna gift your family some "inner peace" this holiday?
DIY Bathroom Naughty Cross Stitch Sign: Jingle Smells
Since Poo~Pourri is the original "Before-You-Go® Toilet Spray", it's good to make sure your holiday guests know exactly what to do when they get into the bathroom. Bed Bath and Beyond has everything you need to make this holiday more merry and less smelly, with Poo~Pourri "Before-You-Go® Toilet Spray" holiday scents like Merry Spritzmas® – (Peppermint+Vanilla+Citrus) in this Holiday Pull-Apart Gift Set. Hover over this image and click on the images to visit BedBathandBeyond.com to get all the deets on Poo~Pourri's holiday scents: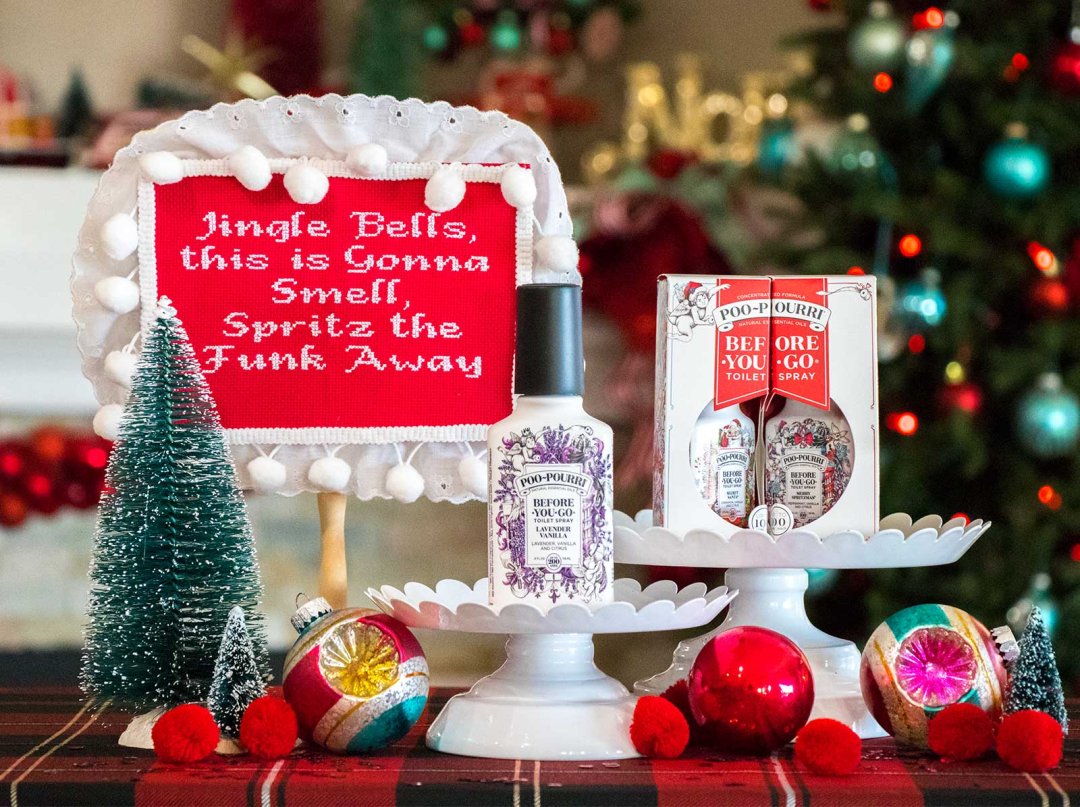 Watch this video to see how to create this naughty cross-stitch project to give your guests a chuckle and help them keep the porcelain sleigh smelling fresh this holiday.
Here's what you'll need to make this Christmas naughty cross stitch project:
Craft Supplies:
Red Aida Cloth (I used 18 count but 14 count will be alot easier to stitch)
9″ x 12″ sheet of red felt (trim to fit finished cross-stitch project)
9″ x 12″ sheet of chipboard or cardboard (trim to fit finished cross-stitch project)
White eyelet lace
White pom pom trim
White embroidery floss
Naughty cross-stitch pattern (download all 8 patterns HERE)
Poo~Pourri "Before-You-Go® Toilet Spray" to display with the sign
Tools:
Scissors
Needle
Hot glue gun
Embroidery hoop
How to make this naughty cross stitch sign for the bathroom:
Stretch the aida cloth in the embroidery hoop.
Following the naughty cross stitch pattern, start stitching the letters in the middle of the hoop using 2 strands of white embroidery floss (separated).
Tie off the thread on the back as you get to the end of each length. Then continue stitching with a new length of 2 strands of thread.
Remove the finished project from the hoop and trim the aida cloth to about 5″ from the stitching on all sides.
Trim the chipboard to fit behind the stitching. My sign is about 5″ x 7″ but yours might be bigger if you used a different count aida cloth.
Wrap the cloth around the chipboard and stitch the ends together across the back. Cut a piece of felt slightly smaller than the finished piece. Stitch a loop onto the back with 6 strands of embroidery floss to make a all hanger. Hot glue the felt to the back of the cross stitch piece, covering the edges of the aida cloth and stitching. Hot glue lace and pom pom trim to the edges.
Display in the bathroom on the wall near the toilet, just above the bottle of Poo~Pourri.
Before you go, be sure to grab the FREE download of this naughty cross-stitch pattern + 7 additional versions. Click here: I want the Cross Stitch Patterns
Don't forget to look out for special coupons on one item at Bed Bath and Beyond's website before heading out to shop or shopping online for Poo~Pourri's Holiday Gift Sets and Ornaments.
Pin this: